Introduction to Retail Industry
Retail Industry is undergoing profound changes to meet the demands and expectations of the increasing customer base; there is a need for technology advancement. Big Data Analytics is the prerequisite to stay ahead in the game. Retailers are tasked with transforming colossal amount of data into practical insights. With decentralized shopping experiences becoming more 'standard,' retailers can no longer afford to operate in a traditional environment. Retailers see the benefit of investing in analytics capabilities for a better understanding of customers and managing inventory. However, while the goal is clear, the path is not so.
Get Real-Time Flexible Data Analytics for your Retail Business to avail Holistic View from Consumers to the Shelf.
Store Manager
Shelf space, customer relationship, balancing Inventory, determining the best marketing strategies and investment for promotions have always been a store manager's major concerns. As Point of sale systems updates transaction log data every 15 mins, the data collected is fed into the engine for forecasting. Our Retail Store Solution allows analyzing business results from multiple angles. Get insights from data on product, promotions, sales, customer, inventory, and drill-down to understand business rationally. Attributes like Inventory Turnover Ratio, Economic Order Quantity (EOQ), Customer Retention Rate can be seen in the form of dynamic visuals for taking effective and efficient decisions. Read More > With video and image analytics captured by cameras and drones, plannogram can define location and quantity of products to be placed on display. This will even enable managers to avert the problem of security incidents and shrinkage scenarios such as spillage, intrusion, trespassing as well as other dubious activities. Store managers can view the Standard mobile reports in different languages like Hindi, Gujarati, Korean, Japanese etc. Read Less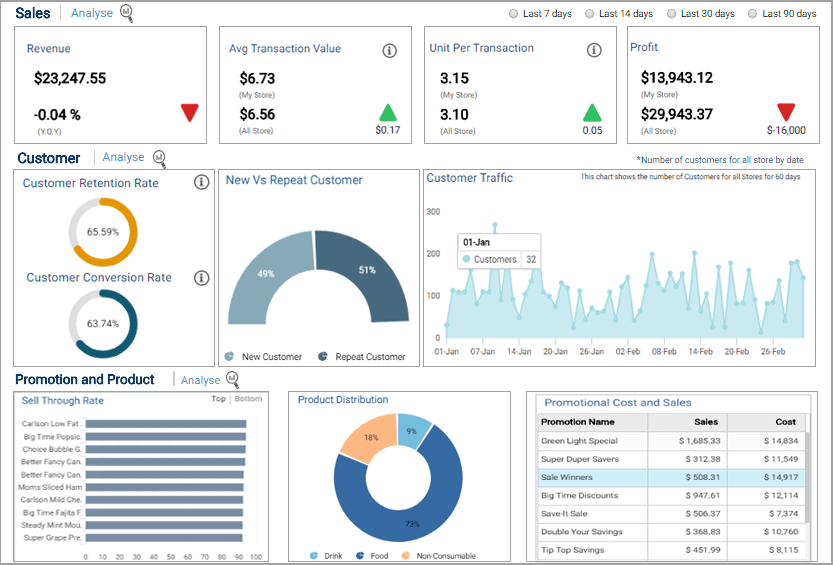 Franchise
For a modern marketer, Customer segmentation and targeting isn't just a suggestion; it's a necessity. Untargeted marketing promotion may hurt your brand value. Customer Lifetime Value, RFM, Customer Segmentation, Feedback Analysis (using Integrated Survey), Demand Forecasting and Market basket Analysis are some of the KPI's which our solution provides under the canopy of Retail Franchise solution.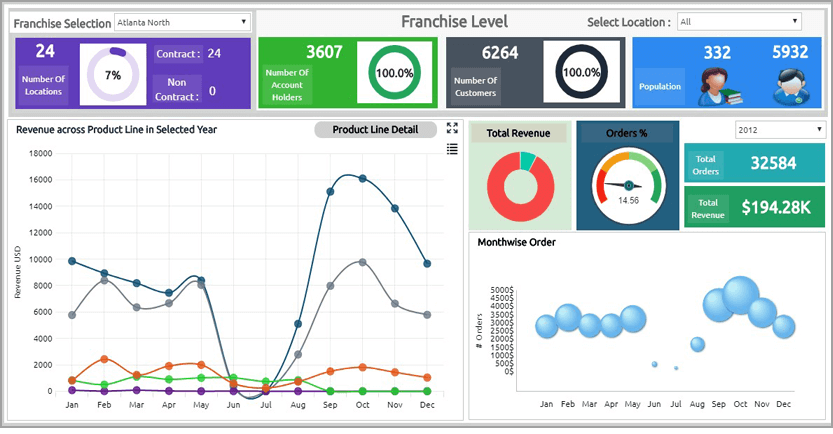 Merchandiser
Merchandisers have been called the 'Image consultants for the retail world' in the modern time ensuring that the products arrive on time, and work closely with the staff to forecast, plan, and monitor stock levels. BDB offers interactive dashboards asserting different modes of payment collected on a different timeline such as Sales, Joiners, and Inventory related information. It makes up the entire package of what a merchandiser would require.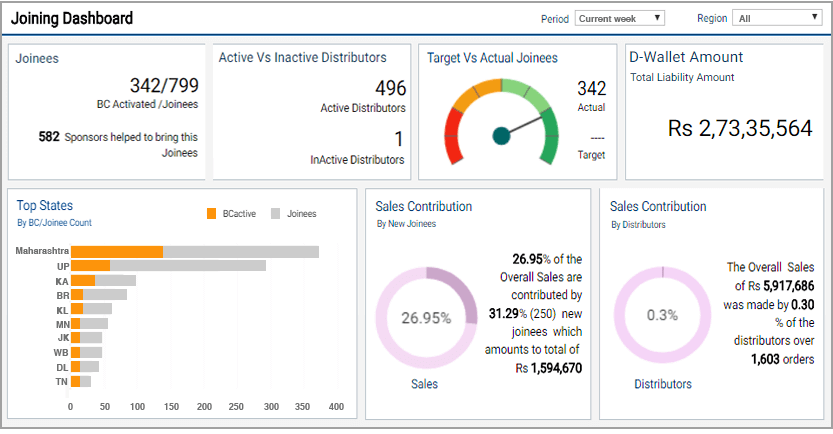 KPIs of BDB Retail Analytics

Customer Segmentation
Reach out to the right customers using K-Means Clustering

Customer Lifetime Value
Identify Customer Segments and CLV rank of a segment using a model combining RFM, K-Means++,Analytic Hierarchical Process(AHP)

RFM Analysis
Examine Recency and Frequency factors to determine the worth of a Customer

Feedback Analysis
See Consumer Trends through Benchmark and Sentiment Analysis on Feedbacks using the BDB Survey

Economic Order Quantity
Minimize Inventory Cost to Secure Restocking

Sell-through Rate
Track product sales and strike a right inventory balance
Customer Retention Rate
Check Worth of your Promotion Campaign based on Customer Retention Rate

Customer Conversion Rate
Get count of your Converted Customers v/s Visitors
BDB's voice based billing. It is a custom solution which takes billing and generating invoice to the next level, by utilizing innovative AI based search to add units to cart in an intuitive manner.